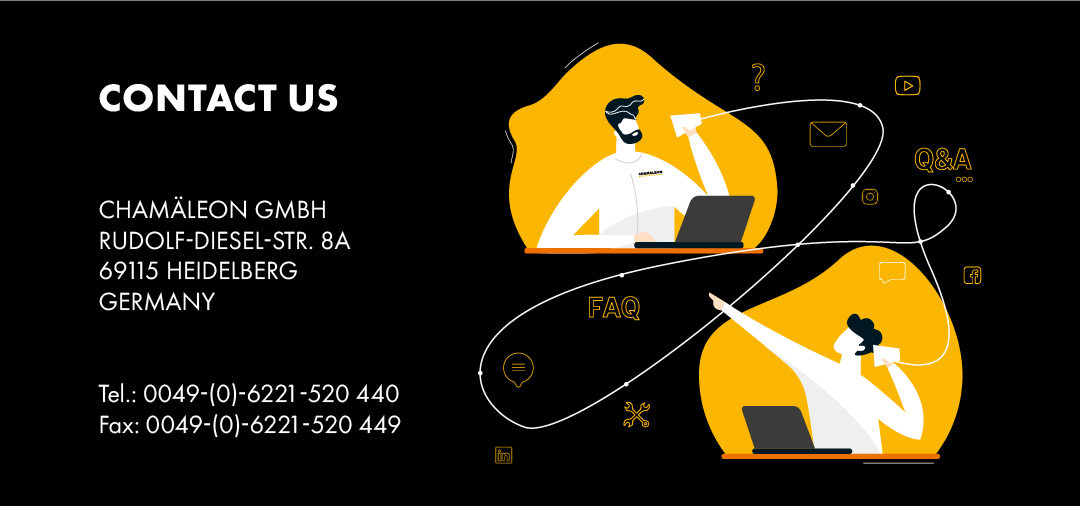 Contact form
In case you would like to contact us directly or some questions arise, please, fill the following form.
* Those items should be filled in.
All technical questions will be answered within 48 h during working days.
technic@chamaeleon-produktion.de
Please, inform your customers to make sure that all technical details are provided within the description of a case (like temperature, humidity, way of application, batch number, etc.), so that the quality and timing of our answer can be optimized.
We are striving to make our cooperation easier and our customer service more advanced so we can give our end-users the best possible service and technical support.
Which aerosol primer should I use when a car part is sanded to bare metal?
For bare metal we recommend either epoxy- or wash primer.
What kind of primer should I use on bare metal?
On bare metal surfaces, corrosion protection has priority. Therefore we highly recommend either Epoxy- or Wash primer.
How can I prevent Fish Eyes or silicone craters in base-/top- or clear coat?
Fish Eyes or Silicone Craters occur when the surface that is painted wasn't cleaned properly. Very small drops of silicone or oil will cause ugly "craters" in the paint surface. Make sure to always clean any surface with Chamäleon silicone remover before spray painting it. https://chamaeleon-produktion.de/chamaeleon-silicone-remover.html
What does LOW VOC mean?
LOW VOC means that the product has a lower percentage of Volatile organic compounds. In many countries this content is limited by law. Please check your local limits and regulations before using our products as Chamäleon will not be held accountable in case of fines or other problems.
Can I use cheap local thinner with Chamäleon products?
We strongly discourage anyone from using a third party thinner with our products as we can't guarantee a good result. Please only use Chamäleon Thinner with Chamäleon Clear coats.
What can be the problem if putty dries to slow after applying it to a surface?
In most cases this problem occurs when too little hardener is used, please make sure to use 2-4% of hardener for polyester putties. But please don't use more than 4% hardener as this will cause the putty to dry too fast which could cause adhesion problems.
Can clear coat MS 133 and HS 155 be used on wood or other materials?
For wooden surfaces you need special clear coats. Chamäleon Clear coats may be usable on other materials with the right primers, but they have not been tested and are intended for the car refinishing branch.
Why are the light weight putties measured in litre and not in gramms like the rest?
Due to the greatly reduced weight of these putties, it is better to measure the volume. For example: due to it's lightweight the 15335 fiberglass light putty is filled in the same can as 1,85 Kg of regular 505 putty.
What air pressure and nozzle size should I use?
The right pressure and nozzle size depends on the product you're applying. please find the correct answers in the corresponding TDS, which you can find on the Chamäleon website. https://chamaeleon-produktion.de/downloads-95.html
Do I have to apply a primer before coating?
For best adhesion, surfaces should always be primed before coating.
What is the drying time of putty/clear coat/primer etc.?
This differs depending on the putty/clear coat/primer you've applied. Please find the correct answers in the corresponding TDS, which you can find on the Chamäleon website. https://chamaeleon-produktion.de/downloads-95.html
Can gravex be overpainted?
Chamäleon gravex is based on artificial rubber and can be overpainted.
Can I get your chemical products via Airfreight?
It is possible to send our chemical products per airfreight but in our experience this is extremely expensive (4 or 5 times the sea freight rate) due to the fact that all our chemical products are dangerous goods and have to be repacked. This would only be possible for very small quantities. As a general rule, we strongly discourage this.
What kind of pallets does Chamäleon use and what are the dimensions?
We use standard Euro pallets (120 x 80 cm) for most orders. In case an order fills a 20 Ft. Container, we can use slightly smaller "sea pallet" (115 x 76 Cm.) to have a better fit.
What kind of dangerous goods you have? Do we need a driver with an ADR licence?
All our chemical products fall under the international regulations for Limited quantities (LQ) according to ADR chapter 3.4. This means that to transport our goods NO ADR driver license is needed and it does NOT count as a dangerous goods transport. The only exception to this is article 13508 Silicone remover 5 liter. If this product is included in an order that needs to be transported by sea, the complete order will be labelled as ADR freight which will double (or more) the total transport costs. Due to this, we don't offer this product to oversea customers.
What is the address where Chamäleon orders should be collected?
All orders should be collected from the warehouse complex of Finsterwalder Transport & Logistik, Grenzstraße 11, 06112 Halle. But please direct any questions concerning opening hours, pick up references and loading possibilities to your Chamäleon area manager.
What are the incoterms and which papers are being provided by Chamäleon?
We sell our goods under the incoterm FCA Halle. This means we will load the goods on a vehicle and provide the needed documentation (Invoice, packing list and if needed the IMO and/or the MRN (EX1). However the customer is responsible for the pick up and transport of the goods. In the rare cases in which we arrange transport and the transport costs are being paid to Chamäleon, the incoterms will change to CFR.